I met Violeta Bravo during an Art Fair in London. She is from Spain Madrid. Her art is commission from a very delicate and poetic world mixed with a brilliant view of a contemporary nightmare of Hieronymus Bosch, in water color.
Violeta where are you now? And what are your planning with your art?
Hi Ilaria, so after we met at the art fair I decided to move to London! I always wanted to live here so it came like a natural decision. Now I'm looking for exhibition spaces, representation and a new studio: I've got a couple of new big size works in mind that I'm really looking forward to materialize, they are the beginning of a new phase.
What is behind of your beautiful technique with pastel nuances in water color?
Since I've got memory I remember myself drawing and creating things with my hands. This way I would understand better the things happening to and around me. At the end of the day I feel that there is multiple layers of all kind of information and stimulus that we have to deal with, so I think I tend to create layers of watercolor and mix media to bring a kind of order and make sense of existence on my own way.
 Do you usually sign your work? Have you got an art nickname?
 I do sign my works usually on the back. Recently I carved a stamp with my initials (VB) and it shows at the front in the bottom right corner of my latest works. My artist name is my real name and my mother's surname.
What do you think about social network?
I think it is an useful tool that allows artist to reach a wider audience and create more connections, but also at the same time everything comes with this due date feeling, things "must" be brand new every day, so not sure that is giving us the time to reflect about what we receive and the quality of it.
 Are you interested also in fashion?
Definitely I am, I love to always keep an eye on the fashion industry. One of my dreams is to do a collaboration with a clothing brand and create a series of watercolor works exclusively for textile design, I see that could result in some great pieces.
 Are your painting connected with your dreams or nightmare or are sort of vision?
I think a bit of both. My work lives is that middle state when you are not completely awake or asleep: dream and reality coexist and everything is possible and makes perfect sense, even the most bizarre connections. I tent to have lucid dreams, so I will recollect some ideas from them, and some times strong images come to me during the day, the last ones normally are symbolic metaphors connected to my personal experiences, so for example Origin: Horse in the cloud appeared in a moment where there was a lot of chaotic movement in my life and I couldn't see where I was heading. The red Lioness came to me as a way to bring back inner strength, and I had to figuratively wear her skin and the power of the red color. Other important source for my work is zoological and botanical research, where I can have a more scientific approach to my subjects. Biology has always been a passion of mine, so I greatly enjoy investigating for living beings that I want to incorporate in my works.
 Tell me, please, about your favorite book when you were child.
"The Children of Lir" by Sheila MacGill-Callahan, with the precious and inspiring illustrations by the russian painter Gennadi Spirin. It is based on an Irish folklore legend, where the two daughters and two sons of the King Lir are transformed into swans and doomed to stay that way until two mountain separated by the sea would be joined together. I would spent hours with this book, amazed by the metamorphosis from human to animal and vice versa and the symbiosis with the natural world. It left a deep impression in me and together with other sources metamorphosis is a recurrent theme in my work.
Ilaria Bochicchio
www.violetabravo.com / info@violetabravo.com
Origin: Horse in the Cloud / Watercolour and color pencils, ink, pastel pigment on cotton paper / Aluminum framed
230cm x 114 cm / 2017
Stones of time, from air to water in a cicle / Watercolour and color pencils on Waterford paper
56x76 cm / 2017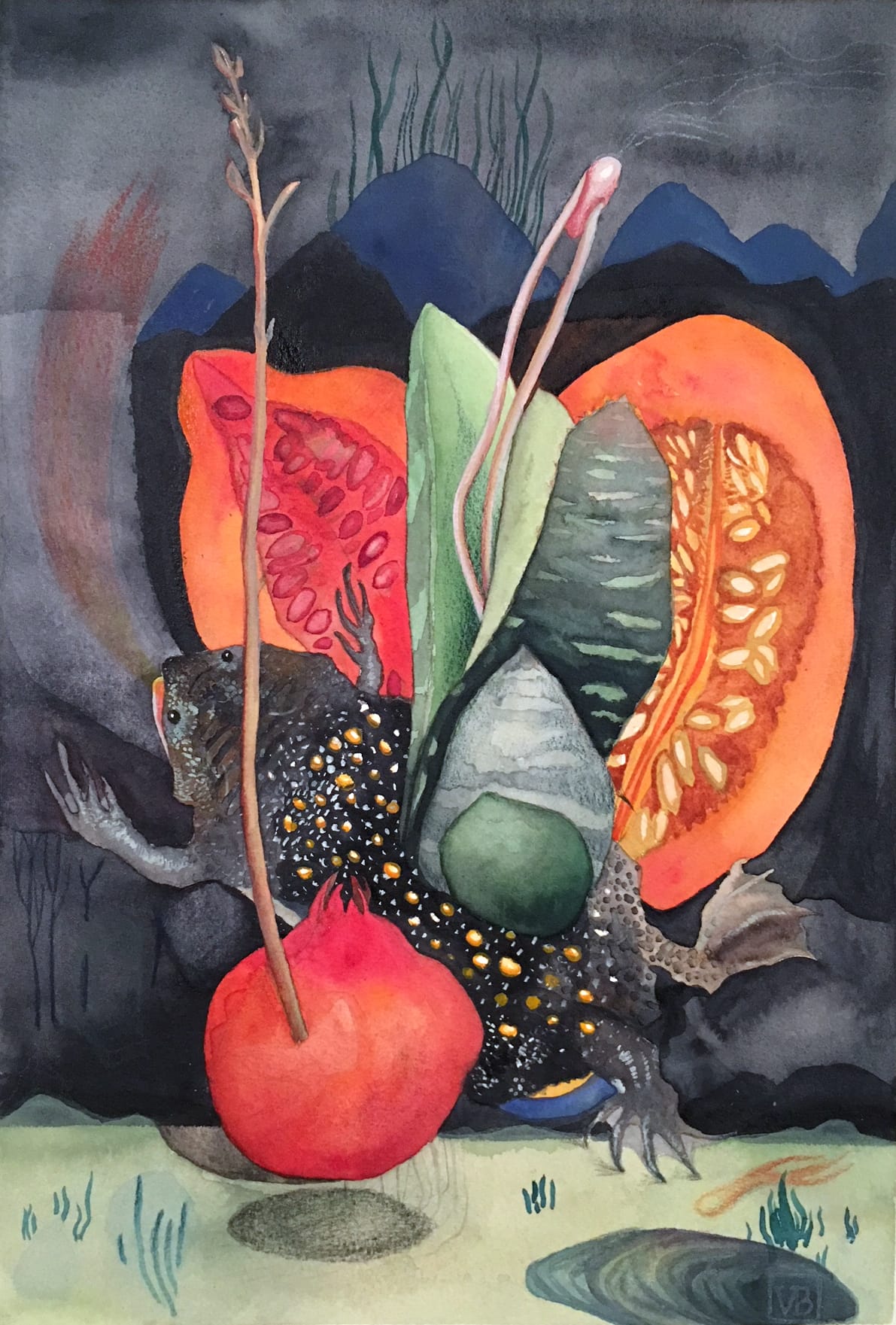 Suriname and the pearl hunter / Watercolour and color pencils on Waterford paper
30x40 cm / 2017
Barn owl woman, thinking of Arizona / Ink, watercolour, colour pencils, acrylic and pastel pigment on Fabriano paper
150x70cm   / 2017
Changing states in La Mancha I: The awakening / Watercolour and color pencils on Archer paper
29x39 cm / 2017
IN COVER: Lioness in red / Watercolour and color pencils, ink, pastel pigment on cotton paper / Aluminum framed
156 x 114 cm / 2017